NOTE: THIS IS MOSTLY THEORETICAL AND HAS NOT BEEN CONFIRMED BY FIREPROOF GAMES
Greyhenge is a semi-theoretical location in The Room series. It is a stonehenge-like area, presumably on the island of Grey Holm. The name is not official, but was given by fans to describe the reoccuring standing-stones type location within the games. It appears in The Room, The Room Three, and The Room VR: A Dark Matter.
In the Games
[
]
The Room
[
]
Greyhenge is first seen at the end of chapter four of The Room. As the player completes the solving of the orrery and comes closer to unlocking the Null frame, their location subtly changes around them, until they find themselves apparently no longer in AS's Manor, where the game began. Instead, they are in an outdoor location, surrounded by giant stones and one complete archway. When the protagonist finally take hold of the Null, the archway becomes a portal and whisks them away to the Cog Room.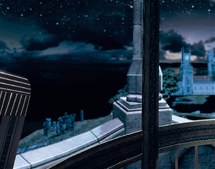 The Room Three
[
]
Greyhenge is finally seen again in The Room Three, when the protagonist is kidnapped by The Craftsman and taken to the isle of Grey Holm. It is one of the places on the model of Grey Holm that the player can superzoom into. It also can be seen from the windows and top of the lighthouse, and briefly in some of the ending cinematics.
The Room VR: A Dark Matter
[
]
In The Room VR: A Dark Matter, The Detective is teleported to a strange void-like location, where a copy of the stone archway is slowly reconstructed between chapters for The Craftsman. When all three soul-trap artifacts have been retrieved, the archway is completed, opening the White Doorway.